Have you ever wondered…
What else is available to you for whole body, mind and spirit healing?
Healers from across Saskatchewan & Alberta will gather to assist with any questions you have, offer many services and products.
· Angel Card Readings ● Crystals
· Reiki & Bars Sessions ● Essential Oils
· Clairvoyants/Mediums ● Hand Crafted Items
· All Natural & Gluten Free Products ● Green Clean Products
· Fascia ESSE Healing ● Body Talk
· Energy, Color & Vibrational Therapy ● Hand Analysis
AND SO MUCH MORE
Next Healing Heart Holistic Fair WIll be in Lloydminster June 11th
and Coming Soon to Wainwright, AB Date TBA
DATE:
Reiki for Your Soul and Twisted Tree Creations
Armina Bridgeman - Reiki Master/Teacher, Access Bars and Access Body Process Facilitator and Practitioner, I love the changes that these simple tools and amazing processes can offer people to choose different and create different possibilities in their lives and with their bodies. Access Consciousness offers a different way of thinking with ease, joy and glory. How does it get any better that that? What else is possible?
Twisted Tree Creations nature inspired Jewelry, including Tree of Life pendants and Sun-Catchers, Leather Wrap Bracelets, MoodStone Rings and Necklaces, Gemstone Earrings and Necklaces and Essential Oil Diffuser Locket Necklaces.
During the fair I will be doing Mini Reiki and Bars Treatments (20min) for $20.00 and have all of my Jewelry Creations and Essential Oil Blends present!
Soul to Soul Healing
Roxanne Valliere- Reiki Practitioner & Body Talk Healer
Starting as an energy and body healer 3 years ago, Roxanne has learned so much about the holistic approach to healing the body, mind, emotions and spirit.
Hand Analysis & Angel Readings
As her practice grew she went on to learn about opening the soul of the true person, connecting them to their true self and true life purpose through hand analysis and angel readings.
BALANCE 4 LIFE
Loretta Mitchell - Reiki Master, color and sound vibrational Therapy FROM Lloydminster
Reiki - Usui Reiki Ryoho & Komyo
JOLENE STABBLER - YOUNG LIVING REP
Young Living is the world's leading company in essential oils! When it comes to our essential oils, Young Living sets the standard for purity and authenticity. We carefully monitor the production of our oils from beginning to end through our unique Seed to Seal® process, ensuring the purity of each essential oil and protecting nature's living energy in every bottle.
Young Living is Inspiring people to transform their lives by taking charge of their health! Stop by and learn how to live a more health conscious & toxin free lifestyle.
DRAGONFLY DREAMWEAVER - GAYLE DYCK
Access Bars Facilitator
Jewellery - including Wands and Pouches (Amulet Bags)
Laurel Thomsen - goDesana Rep
Alexandria Brighton is the Mother of Essential Oils in the Western World and is a Certified French Medical Aromatherapist and is an Internationally recognized Essential Oils Formulator and Purveyor. www.godesana.com/laurel.thomsen
"Because I work with a very large organization with the ability to source the very best from around the world, and have long standing contracts for the purchase year after year, much of what is left available for other companies to purchase is mid to low quality. ~ Alexandrian Brighton"
Balance N' Soul - Holistic Healing
Denise Dreilick - Reiki Practitioner/Master and Access Bars Practitioner/Facilitator.
Denise has been a Reiki Practitioner for over 5 years and has been a Reiki Master / Teacher for over 4 years. Denise has also been a Bars Practitioner for 2 years.
Selling - Oils, Oil diffusers, Crystals, New Age Books, Sage, Chakra Banners and sooo much more.
Michelle Miller
Michelle is a licensed spiritual healer, Reiki Master/Teacher and certified foot reflexologist and also has her advanced level in Integrated Energy Therapy. She will be offering mini sessions in Angel Reiki ( this is Reiki with messages from your guides and angels) as well as mini sessions in Integrated Energy Therapy ( With the help of the angels she will be flooding your body with love and light to help release blockages while receiving messages from your guides and angels). These mini sessions will be $30.00 for approximately 15 min.
Michelle currently works in Saskatoon at the Soulworks Sacred Healing Center. Feel free to look at her website at www.soul-living.ca

Aaron Meikle OF UNITY, SK ~ ARBONNE
LISA LINDSAY OF UNITY ~ IT WORKS

JO
YLYNN CALVERT OF MAIDSTONE ~ JOYS HEALING ROOM
CARRIE BRODY OF UNITY, SK ~ SERENITY 4 THE SOUL
TRICIA KINCH, SHARLENE YOUNG AND ASHLEY OF PROVOST OFFERING ACCESS BARS SESSION AND BEAUTIFUL GEMSTONE JEWELRY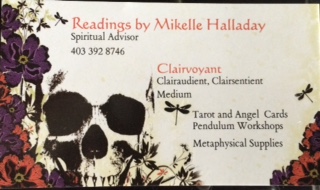 Readings by Mikelle Halladay ~ Clairvoyany/Medium, Tarot and Angel Cards Reads